Update: Alpha Hydrox Enhanced Lotion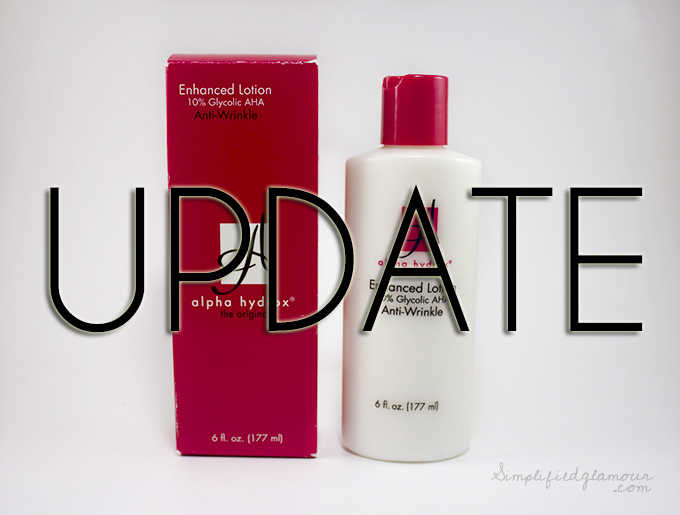 Original Post: Alpha Hydrox Enhanced Lotion
I've been testing the Alpha Hydrox Enhanced Lotion almost everyday for a month, sometimes twice a day (morning and night) not sure if I need to use it for a couple more weeks or what. Let me start by saying I try not to get too hyped over products because I'm always let down, it barely worked for me, however just because it didn't work for me it might for you. As to most products there are some pros and cons.
CLAIMS: Alpha Hydrox Enhanced Lotion is proven to significantly reduce the appearance of fine lines, wrinkles, and discolorations. With continued use, Alpha Hydrox will help to revitalize and restore younger, healthy, more radiant-looking skin.
Effectively and safely lifts dead cells from the skin's surface, revitalizing and helping restore younger, healthy, more radiant-looking skin.
Renews moisture, refines texture, improves elasticity and skin tone.
Formulated with rich moisturizers and Vitamin E, Alpha Hydrox leaves skin silky soft and smooth
I don't know about you but when I read "significantly reducing" I expect a lot. I did not see any "significantly reduced" fine lines as for the discolorations I see a TINY amount of reduced redness and I can say that it made my skin feel clean, smooth, soft, and have a "fresh" looking/feeling to it. I don't like to bash a product but I'm kind of disappointed to see no results with my fine lines and discoloration. I'll keep using this product and hopefully I'll actually see results with the upcoming weeks.
Did this product work for you? How long did it take to see results?

---
---