Coastal Scents Hot Pot: Part 2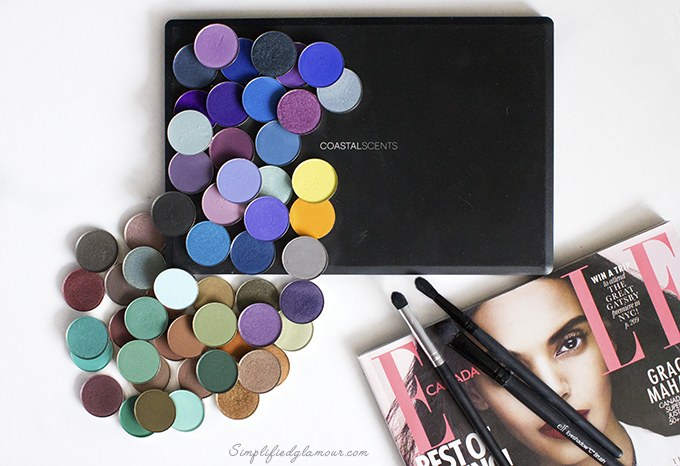 This is part 2 of my collection of the Coastal Scents Hot Pots which I purchased during their yearly sale for $0.99 USD each (originally $1.95 USD). You can view my thoughts from part 1 of my swatches/review here.
DESCRIPTION: A 1-inch metal pan that contains a highly pigmented eye shadow for multiple applications. Each Coastal Scents Hot Pot™ fits snugly into one of the Go Pod, 4 Piece, 12 Piece, and 28 Piece Interchangeable Palettes. These custom palettes contain magnets in a soft foam padding which attract the metal pan of the Hot Pot™. This allows you to completely customize your palette to create any look by simply adding interchangeable Hot Pots™ from the vast collection of shades, hues, and finishes. 
I've decided to categorize the Hot Pots based on:
Smoothness: How each pot felt to the touch.
Pigmentation: How pigmented each pot was in accordance to if it is opaque, sheer, etc.
Powdery: If the swatch looks powdery while applied.
Chalky: How chalky the hotpot felt to the touch.
*Note that Hot Pot consistency might vary from person to person and this is just my opinion of the ones I have purchased.
Wild Raisin, Burnt Umber, Timeless Taupe, Miami Spice, Harvest Brown, Dark Chocolate, Earth Rose

Wild Raisin, Burnt Umber, Timeless Taupe, Miami Spice, Harvest Brown, Dark Chocolate, Earth Rose
Wild Raisin: Not Smooth, Pigmented, Powdery – (Semi-Opaque – Matte Finish)
Burnt Umber: Smooth, Pigmented, Non-Powdery – (Opaque – Matte Finish)
Timeless Taupe: Smooth, Pigmented, Non-Powdery – (Semi-Opaque – Matte Finish)
Miami Spice: Smooth, Pigmented, Powdery – (Semi-Opaque – Shimmer Finish)
Harvest Brown: Smooth, Slightly Pigmented, Non-Powdery – (Opaque – Matte Finish)
Dark Chocolate: Smooth, Pigmented, Non-Powdery – (Opaque – Satin Finish)
Earth Rose: Slightly Smooth, Pigmented Non-Powdery – (Semi-Opaque – Satin Finish)

Oktoberfest, Caramelized, Pure Bronze, Bungalow Gold, Mai Tai, Raisin Berry, Vintage Burgundy

Oktoberfest, Caramelized, Pure Bronze, Bungalow Gold, Mai Tai, Raisin Berry, Vintage Burgundy
Oktoberfest: Smooth, Pigmented, Powdery – (Opaque – Matte Finish)
Caramelized: Smooth, Pigmented, Non-Powdery – (Semi-Opaque – Shimmer Finish)
Pure Bronze: Smooth, Pigmented, Non-Powdery – (Opaque – Shimmer Finish)
Bungalow Gold: Smooth, Pigmented, Non-Powdery – (Semi-Opaque – Shimmer Finish)
Mai Tai: Smooth, Pigmented, Non-Powdery – (Semi-Opaque – Shimmer Finish)
Raisin Berry: Smooth, Pigmented, Non-Powdery– (Opaque – Shimmer Finish)
Vintage Burgundy: Smooth, Pigmented, Non-Powdery – (Opaque – Satin Finish)

Thunderous, Dark Golden Olive, Pinehurst, Olivewood, Fresh Chive, Viridian Green (s25), Jungle Green

Thunderous, Dark Golden Olive, Pinehurst, Olivewood, Fresh Chive, Viridian Green (s25), Jungle Green
Thunderous: Slightly Smooth, Pigmented, Non-Powdery – (Semi-Opaque – Satin Finish)
Dark Golden Olive: Smooth, Pigmented, Non-Powdery – (Opaque – Shimmer Finish)
Pinehurst: Slightly Smooth, Pigmented, Non-Powdery – (Opaque – Matte Finish)
Olivewood: Slightly Smooth, Slightly Pigmented, Non-Powdery – (Opaque – Matte Finish)
Fresh Chive: Not Smooth, Lacks Pigmentation, Non-Powdery – (Opaque – Matte Finish)
Viridian Green (s25): Slightly Smooth, Pigmented, Powdery – (Semi-Opaque – Satin Finish)
Jungle Green: NOT AVAILABLE ON WEBSITE

Jewel Teal, Teal Green (cm11), Niagara, Olive, Cherry Moss, Sea Lily, Pale Green Tea

Jewel Teal, Teal Green (cm11), Niagara, Olive, Cherry Moss, Sea Lily, Pale Green Tea
Jewel Teal: Smooth, Pigmented, Non-Powdery – (Opaque – Shimmer Finish)
Teal Green (cm11): Slightly Smooth, Pigmented, Non-Powdery – (Semi-Opaque – Matte Finish)
Niagara: Smooth, Pigmented, Duo Chrome, Non-Powdery – (Opaque – Shimmer Finish)
Olive: Smooth, Pigmented, Slightly Powdery – (Opaque – Matte Finish)
Cherry Moss: Smooth, Pigmented, Duo Chrome, Non-Powdery – (Opaque – Shimmer Finish)
Sea Lily: Smooth, Pigmented, Non-Powdery – (Sheer – Matte Finish)
Pale Green Tea: Smooth, Pigmented, Powdery – (Semi-Opaque – Satin Finish)

Edgy Eggplant, Deep Grape, Violetta, Profound Plum, Regalia Purple (s14), Purple Panic, Thistle Lavender (m15)

Edgy Eggplant, Deep Grape, Violetta, Profound Plum, Regalia Purple (s14), Purple Panic, Thistle Lavender (m15)
Edgy Eggplant: Not Smooth, Slightly Pigmented, Chalky Feeling, Non-Powdery – (Opaque – Matte Finish)
Deep Grape: Not Smooth, Slightly Pigmented, Chalky Feeling, Non-Powdery – (Opaque – Matte Finish)
Violetta: Slightly Smooth, Slightly Pigmented, Non-Powdery  – (Opaque – Satin Finish)
Profound Plum: Smooth, Slightly Pigmented, Chalky Feeling, Non-Powdery – (Semi-Opaque – Matte Finish)
Regalia Purple (s14): Slightly Smooth, Pigmented, Non-Powdery – (Opaque – Shimmer Finish)
Purple Panic: Smooth, Slightly Pigmented, Non-Powdery – (Semi-Opaque – Matte Finish)
Thistle Lavender (m15): Smooth, Pigmented, Powdery – (Opaque – Matte Finish)

Gusty Grape, Amethyst, Perfect Plum, Lavender Lace, Antique Lilac, Periwinkle (m11), Indigo (cm09)

Gusty Grape, Amethyst, Perfect Plum, Lavender Lace, Antique Lilac, Periwinkle (m11), Indigo (cm09)
Gusty Grape: Smooth, Pigmented, Non-Powdery – (Semi-Opaque – Matte Finish)
Amethyst: Smooth, Pigmented, Non-Powdery – (Opaque – Shimmer Finish)
Perfect Plum: Smooth, Pigmented, Non-Powdery – (Opaque – Satin Finish)
Lavender Lace: Smooth, Pigmented, Non-Powdery – (Semi-Opaque – Satin Finish)
Antique Lilac: Smooth, Pigmented, Non-Powdery – (Opaque – Matte Finish)
Periwinkle (m11): Slightly Smooth, Pigmented, Powdery – (Semi-Opaque – Matte Finish)
Indigo (cm09): Not Smooth, Pigmented, Slight Chalky Feeling, Non-Powdery – (Opaque – Matte Finish)

Rainstorm, Steel Blue, Tanzanite, Brandeis Blue (s12), Electric Blue (cm10), Sail Away, Gypsy Blue

Rainstorm, Steel Blue, Tanzanite, Brandeis Blue (s12), Electric Blue (cm10), Sail Away, Gypsy Blue
Rainstorm: Slightly Smooth, Pigmented, Non-Powdery – (Opaque – Shimmer Finish)
Steel Blue: Not Smooth, Pigmented, Non-Powdery – (Opaque – Shimmer Finish)
Tanzanite: Smooth, Pigmented, Non-Powdery – (Opaque – Satin Finish)
Brandeis Blue (s12): Slightly Smooth, Pigmented, Non-Powdery – (Opaque – Shimmer Finish)
Electric Blue: (cm10): Not Smooth, Pigmented, Slight Chalky Feeling, Slightly Powdery – (Opaque – Matte Finish)
Sail Away: Smooth, Pigmented, Non-Powdery – (Semi-Opaque – Matte Finish)
Gypsy Blue: Smooth, Pigmented, Slight Duo Chrome, Non-Powdery – (Opaque – Satin Finish)

Sea Quest, Light Slate, Sky Blue, Tangelo Tint, Light Yellow (cm01), Ash Grey, Incognito

Sea Quest, Light Slate, Sky Blue, Tangelo Tint, Light Yellow (cm01), Ash Grey, Incognito
Sea Quest: Smooth, Pigmented, Non-Powdery – (Semi-Opaque – Shimmer Finish)
Light Slate: Smooth, Pigmented, Slightly Powdery – (Opaque – Matte Finish)
Sky Blue: Smooth, Pigmented, Powdery – (Sheer – Matte Finish)
Tangelo Tint: Slightly Smooth, Pigmented, Powdery – (Semi-Opaque – Matte Finish)
Light Yellow (cm01): – (Semi-Opaque – Matte Finish)
Ash Grey: Smooth, Slightly Pigmented, Non-Powdery – (Opaque – Matte Finish)
Incognito: Not Smooth, Lacks Pigmentation, Non-Powdery – (Opaque – Matte Finish)

---
---